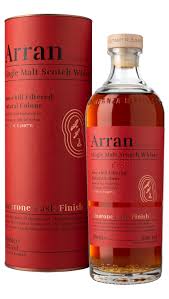 Arran Amarone Finish
Arran Amarone Cask Finish is a single malt whiskey that, after an eight-year maturation in American oak barrels, has been finished for some time in barrels that previously contained Amarone wine. These used wine barrels come from Veneto, a region known for producing excellent wines. These carefully selected barrels provide the Arran Amarone Cask Finish with a tasteful and lively character, introducing you to a different side of the brand.
The best of a luxury wine from Italy comes together with the best of a lively Scottish single malt whiskey; Arran Amarone Cask is an amalgamation of cultures. The scent of this whiskey is aromatic and pleasant: cherries, Turkish delight and chocolate complement each other tastefully. Pear is abundant in the mouth with a soft touch of cranberry and honey. The finish is sweet with hints of pear, Turkish delight, cherries and a hint of dark chocolate.